Welcome to New Lyme Presbyterian Church
Welcome To the Presbyterian Church of New Lyme!
Welcome to our congregation's virtual home! We're happy you stopped by! We pray that God will guide you on your journey and that this site will be a useful resource along the way. Feel free to look around, there's plenty to see! And of course, please join our church family any Sunday for worship and praise, it's what it's all about! See our schedule of services below, and God Bless!

Please join us for our Sunday Services!
Sunday Morning, 10 AM
Please come back things are going to be changing day by day (Daily Readings) and other things .If you have something you would like to see or put on let me know I'll be glad to do it.
We are an open community church and welcome all!
Please take a second and sign our guest book so we can see what your thinking of our little site THANKS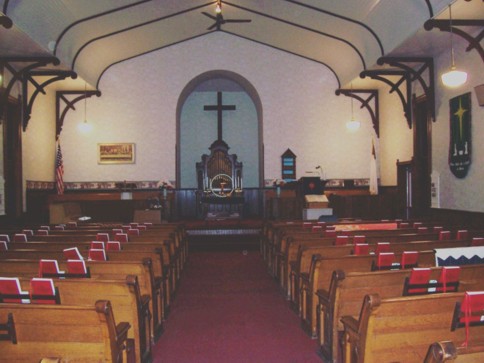 We are currently undergoing major changes so stay tuned! The Lord has exciting things in store!
Send me your favorite Passage or Reading from the Bible

for example ( Colossians 3: 12-15 ) and I'll look it up and post it .If you would like to give a category like faith, love or this one

Here is a new favorite of mine

Philippians 4:4-7

4 Rejoice in the Lord always. Again I will say, rejoice!
5 Let your gentleness be known to all men. The Lord is at hand.
6 Be anxious for nothing, but in everything by prayer and supplication, with thanksgiving, let your requests be made known to God; 7 and the peace of God, which surpasses all understanding, will guard your hearts and minds through Christ Jesus.

Living

as a Christian
Colossians 3: 12-15
12 Therefore, as God's chosen people, holy and dearly loved, clothe yourselves with compassion, kindness, humility, gentleness and patience. 13Bear with each other and forgive whatever grievances you may have against one another. Forgive as the Lord forgave you. 14

And over all these virtues put on love, which binds them all together in perfect unity.

15

Let the peace of Christ rule in your hearts, since as members of one body you were called to peace. And be thankful.
About faith
Romans 10:14-17
14

But how are they to call on one in whom they have not believed? And how are they to believe in one of whom they have never heard? And how are they to hear without someone to proclaim him? 15And how are they to proclaim him unless they are sent? As it is written, "How beautiful are the feet of those who bring good news!" 16But not all have obeyed the good news; for Isaiah says, "Lord, who has believed our message?" 17So faith comes from what is heard, and what is heard comes through the word of Christ.
John 1
The Eternal Word
1 In the beginning was the Word, and the Word was with God, and the Word was God. 2 He was in the beginning with God. 3 All things were made through Him, and without Him nothing was made that was made. 4 In Him was life, and the life was the light of men. 5 And the light shines in the darkness, and the darkness did not comprehend[a] it.
Philippians 4:6
6 Be anxious for nothing, but in everything by prayer and supplication, with thanksgiving, let your requests be made known to God;
James 5:16 The effective, fervent prayer of a righteous man avails much.
(NKJV)
1 Timothy 2:1-7 Therefore I exhort first of all that supplications, prayers, intercessions, and giving of thanks be made for all men, 2 for kings and all who are in authority, that we may lead a quiet and peaceable life in all godliness and reverence. 3 For this is good and acceptable in the sight of God our Savior, 4 who desires all men to be saved and to come to the knowledge of the truth. 5 For there is one God and one Mediator between God and men, the Man Christ Jesus, 6 who gave Himself a ransom for all, to be testified in due time, who gave Himself a ransom for all, to be testified in due time, 7 for which I was appointed a preacher and an apostle I am speaking the truth in Christ[a]and not lying a teacher of the Gentiles in faith and truth.
Prayer List:
John has past but please keep the family in your prayers and wife

Lynn Teffner also fighting with cancer
Terry Montgomery an old friend a father ,a husband , grandfather and a member of our church having liver problems we pray that God will help him and his family get through this time of illness and bring them quickly into the time of healing, you are loved and we are praying for you
Jean Grant
-
loved one with Alzheimer's, Helen, Jenny and Michael, Paul with cancer Jack McKinney –colon cancer and Julie job searchand the ministry of New Lyme Church
Matthew 21:22 21 So Jesus answered and said to them, "Assuredly, I say to you, if you have faith and do not doubt, you will not only do what was done to the fig tree, but also if you say to this mountain, 'Be removed and be cast into the sea,' it will be done. 22 And whatever things you ask in prayer, believing, you will receive."
Our future…
Even in these most difficult of times, God has presented us with a wonderful opportunity. Kurt Hardman, an ordained elder from another church, has come to us in hopes to complete lay pastor training and preach at our church. Mr. Hardman presents us with a unique opportunity. Reverend George Daulor will be returning .
We are excited for this new opportunity and are willing to do anything and everything we have to keep our doors open.